Whether you're working on achieving a New Year's resolution or focused on more long-term lifestyle changes, CoolSculpting® non-invasive fat reduction is a proven, effective solution if you're aiming to slim and trim your contours without surgery. This month, we're dedicated to helping you see your desired results and loving your younger-looking complexion AND figure. That's why we're offering 10 free units of Botox® when you purchase CoolSculpting!
One of the biggest questions we get from new clients is "How do I know if CoolSculpting is the right treatment for me to reach my goals?" It's an important question, and one we'll help you determine during your personal consultation. That being said, here are two common indicators that CoolSculpting could be the ideal solution for you.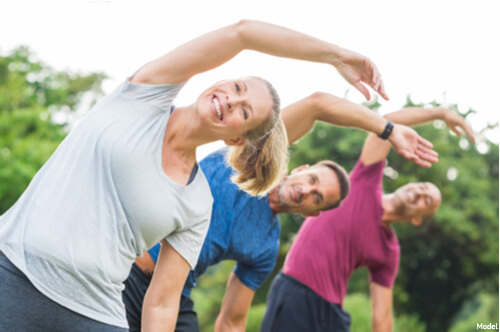 You're at or near your goal weight but are still bothered by "trouble spots."
Almost everyone has one or more "trouble spots" of hard-to-lose excess fat, so we want you to know that you're not alone, and there is a non-invasive, minimal-downtime solution! CoolSculpting is FDA-cleared to reduce fat specifically in those difficult areas that can make us feel less successful with our diet and exercise regimen than we really are. No one deserves to feel disappointed after putting in the hard work to lose excess fat! That's why we recommend CoolSculpting to help you find success with a stubborn stomach bulge, double chin, thigh fat or other area that won't seem to go away with diet and exercise alone. CoolSculpting is great for reducing pockets of excess fat, and it may help you fit into a smaller jeans size, but it is not a weight loss treatment. You will see your best results if you try CoolSculpting when you are 20 pounds or less away from your goal weight.
You're interested in gradual, natural-looking fat reduction.
One point we always make during a personal consultation about CoolSculpting is that this treatment is not for those who want to see immediate, dramatic results. Looking for something more natural-looking and gradual? That's exactly what you can expect with CoolSculpting because of how this technology works. CoolSculpting uses cryolipolysis, administered through cooling panels, to freeze and disable the fat cells in your targeted areas. Results can be seen over the course of a few months following treatment, as your body slowly flushes away the disabled fat cells. A series of treatments is recommended to see your best results, which means that patients begin to enjoy noticeably slimmer, trimmer contours in their treated areas three to six months after treatment, depending on the number of treatments.
Don't forget to give us a call this month to get in on 10 free units of Botox® when you purchase CoolSculpting! We want to help you feel comfortable and confident in your own skin, so call us today at (757) 819-7633 or request a consultation online.