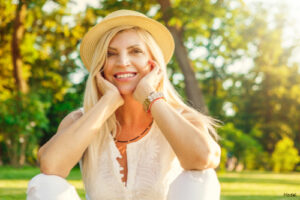 Chesapeake Vein Center & MedSpa is Tidewater area's premier destination for all things health, wellness and beauty, including our state-of-the-art medical spa services. With so many treatments to choose from, you may be wondering, what should I be investing in NOW for springtime?
Since spring is all about renewal, we thought we'd share are our top aesthetic treatments for refreshing your look and achieving natural-looking results:
Microneedling
If you're looking to enhance your natural beauty with intense skin rejuvenation, it's time to consider microneedling. This powerful multi-tasking treatment gently and expertly inserts tiny needles into your target areas to stimulate your skin's natural healing response and trigger the production of healthy new collagen. Microneedling has a wide range of benefits, such as diminishing fine lines and wrinkles, reducing the appearance of acne scars and surgical scars, diminishing stretch marks and tightening and lifting skin. What's more, microneedling can achieve all of this with little to no downtime. Plus, you'll see results within the first week after treatment, with optimal results appearing within six to eight weeks. Come see for yourself why our patients love the revitalizing powers of microneedling for achieving refreshed, younger-looking skin!
Chemical peels
Want fast, effective anti-aging results with minimal to no downtime? Our medical-grade chemical peels may be the perfect treatment for you. Using a specially formulated chemical solution, our chemical peels exfoliate the outermost layer of skin, removing dead cells and producing an intensely renewed and overall smoother, younger-looking complexion. Peels can improve the appearance of lines and wrinkles, sun damage, redness, textural irregularities, acne discoloration, dullness and more. And did we mention we proudly offer the VI Peel by Precision Plus, a medium-intensity peel formulated to tighten skin, smooth texture and brighten tone? VI Peel is ideal for all skin types, even sensitive skin. We recommend it as the perfect first-time peel to treat yourself to a more evenly toned, vibrant glow. Best of all, your new radiance won't take long to appear. You should see results within five to seven days following your treatment.
CoolSculpting®
If the idea of literally freezing away stubborn fat sounds like a dream come true, we've got good news for you: CoolSculpting, the world's first non-invasive fat reduction treatment, is FDA-approved to do just that! Using advanced cooling technology, this no-downtime treatment freezes and destroys fat cells that don't go away with diet and exercise alone. Once your targeted fat cells are disabled, they're naturally flushed away by the body, revealing gradual, natural-looking improvements in the months following treatment. Amazing, right? This includes pinchable fat on your abdomen, upper arms, belly, inner and outer thighs, back, flanks, etc. Thanks to the latest CoolAdvantage Plus technology at Chesapeake Vein Center & MedSpa, CoolSculpting treatments can take as little as 30 minutes with increased comfort and effectiveness for our patients.
Halo™
If you're looking to hit the refresh button on your skin, Halo may be the ideal treatment for you. Halo is the world's first hybrid fractional laser, combining ablative and non-ablative wavelengths to treat both the top layer and the deep layers of your skin. A highlight of the Chesapeake Halo laser is its Dynamic Thermal Optimization feature (DTO), which can monitor the temperature of the treated skin to modify the laser treatment according to each patient for optimal results. By creating thousands of micro-channels, Halo stimulates your skin's natural healing response and spurs vibrant new collagen and elastin growth. Halo can help improve the tone and texture of your skin, fine lines and wrinkles, sun damage, enlarged pores and more with minimal downtime. Depending on the intensity of your Halo treatment, you can start noticing results within the first week. Optimal results will begin to appear two to three weeks following treatment, as your skin continues to naturally heal and generate new collagen and elastin.
If you want to achieve a natural, revitalized look in time for spring, our team of experts are eager to help! To learn more about our aesthetic treatments, please give us a call at 757.663.5461 or request a consultation online today.