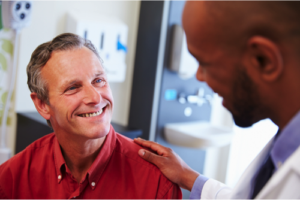 At Chesapeake Vein Center and MedSpa, we take great pride in providing patients with the absolute best treatments available. By combining our years of expertise in the field with advanced technology and a dedication to patient comfort and satisfaction, we hope that every patient who visits us leaves happier and healthier than when they walked in. But don't take our word for it! This month, we wanted to share the stories of just a few of our patients in the Hampton Roads area:
"Prior to coming to the vein center, I had leg discoloration, heaviness, sharp pain in both legs, excessive swelling around the ankles and several bulging veins on the back side of my leg. After the treatment, the heaviness is gone, pain has subsided, considerable swelling is almost gone, and the discoloration is fading. I can't praise Dr. Challa and staff enough about the wonderful care and results of the procedure. They are an outstanding group of professionals." –Alan R.
"This practice has improved my quality of life dramatically. Their professional, courteous staff helped to calm my fears about having procedures on my veins. Dr. Challa helped me to understand these procedures and what my options were. The procedures went very well and they ensured that I was comfortable throughout the procedure. They employ the latest in web tools so that I may keep up with my billing, health records, and appointments. I recommend them to anyone who needs vein procedures." –Timothy S.
Alan and Timothy are just two examples of exactly what we strive for with every patient experience at Chesapeake Vein Center and MedSpa. Dr. Surya Challa and his staff are not only cosmetic and surgical experts with years of training and experience; they are also devoted medical practitioners who want every patient to feel comfortable and confident during every part of their treatment processes.
Chesapeake Vein Center and MedSpa offers patients a variety of skin rejuvenation, anti-aging, and body contouring aesthetic medical procedures, in addition to venous procedures and other surgeries. Call 757-663-5461 to schedule your consultation today.