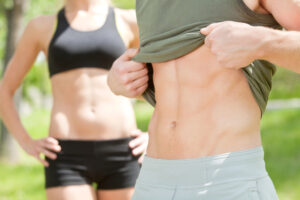 Guess which non-invasive fat reduction treatment at Chesapeake Vein Center and MedSpa recently snagged RealSelf's Most Worth It Award? Ok, we know we already gave away the answer in the headline, but we can't resist building the suspense!
Drumroll, please….
FDA-cleared CoolSculpting is the world's most popular non-invasive fat reduction treatment, helping over 4 million people worldwide to trim down their "trouble" zones. We blog about CoolSculpting a lot because we see real, long-lasting results from this treatment, and it's worth bragging about.
CoolSculpting isn't an overnight sensation—it takes some time to reveal optimal improvement to your targeted areas. Using non-invasive cooling technology, CoolSculpting disables fat cells by freezing them. Then your body kicks in and naturally flushes out the disrupted fat cells in the months following treatment, resulting in noticeably slimmer contours. Best of all, you'll be able to walk away from your treatment no worse for the wear. Most common side effects resolve quickly on their own, including redness and numbness.
Perhaps what we love most about CoolSculpting is that it offers our clients help when and where they need it most! Many of us struggle with stubborn spots on our bodies that are resistant to diet and exercise, no matter how hard we try to tame them. With CoolSculpting, we finally have hope!
Want to know the most important thing of all? You're worth it! Call us at  757.663.5461 or click here to schedule your CoolSculpting consultation today.