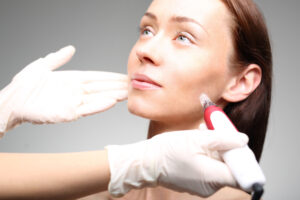 It's hard to believe that summer is almost over! While it's time to start tackling school-supply lists, it's also prime time to start prepping you so you can take on the crisp, new season looking and feeling your absolute best!
There's nothing more exhilarating than achieving radiant, luminous skin. But did you know that nearly 60 percent of us are self-conscious about our skin? That's according to a recent poll conducted by Cosmopolitan.
Fortunately, it's never been easier to reveal a gorgeous complexion. At Chesapeake Vein Center and MedSpa, one of our favorite skin rejuvenation services is micro-needling because it offers noticeable results with little to no downtime. To get your skin in peak condition, we perform micro-needling with Dermapen®, an easy-to-use device that stimulates collagen production using tiny vibrating needles to gently penetrate the skin. With Dermapen, you may notice a glow within the first week, but will enjoy optimal benefits up to two months after your treatment as your skin gradually produces new collagen from deep within, revealing tighter, more evenly-toned, smoother skin with diminished acne scars.
For your best back-to-school skin, call us today at  757.663.5461 or click here to schedule your consultation.