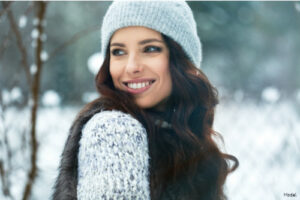 If you struggle to feel your best in the wintertime, you're in good company. Most of us suffer from lower energy levels and moods when the thermometer drops. After all, "the Winter Blues" wouldn't be a thing if it wasn't so prevalent. Since we're in the business of helping you look and feel your best here in Hampton Roads, we put together a few tips for getting your spirits up — not to mention revealing your radiant-best complexion — through the long winter months ahead:
Go to the light!
It's no wonder we're grumpy geese in the winter. Our bodies need ample sunlight to balance our circadian rhythms and maintain healthy sleep cycles. Here are few easy ways to inject more "sunlight" into your day.
You can find them on all kinds of reputable sites. Simply search for light lamp and you'll find all types and sizes at every price point. Periodically throughout your day, sitting by a light lamp may help to boost your energy and mood. In lieu of a light lamp, simply sitting by a window to expose yourself to more sunlight will do the trick.
We are in no way implying that a photofacial works the same as a light lamp, but it certainly doesn't hurt! As the intense pulsed light hits your skin, clearing away dark spots and sun damage, it invigorates both your skin and your senses. You know how great you feel after getting a good haircut and blow out? That same excitement happens after you treat your skin to a professional skin treatment like a photofacial, Halo™ laser skin resurfacing or microneedling treatment. Any medspa treatment, really! The act of caring for your appearance is a very healing tool, reducing stress and boosting your energy and mood.
Get your zzz's!
Sleep is one of the most underrated panaceas on the planet. Sleep helps every aspect of your health, improves your complexion, even slows aging. So, when we lose our sleep, all bets are off! To help you get more sleep:
Go to bed and wake up at the same time every day.
Your body loves consistency. To help improve your sleep, experts recommend sticking with a schedule to help your body get into a rhythm for falling asleep and waking.
Get off your screens at least one hour before you want to be asleep.
Research indicates that the blue light from the TV and your computer/phone interferes with your brain chemistry, making it more difficult to fall asleep.
Keep moving!
We all know the health benefits of exercise. We also know how challenging exercise can be in the winter. It's cold outside and you're cuddled up in comfy fleece. Wouldn't it be amazing if cuddling under blankets burned lots of calories? If moving during the winter is challenging for you (like most of us), remember to start with baby steps. Researchers who study healthy habit-forming behavior recommend consistency over intensity. We often think if we aren't running a marathon or hitting the gym every day that it doesn't count, but that's not the case. Every little bit we do helps, and sticking with it, even if it's just five minutes of walking, is on the right track.
All of us at Chesapeake Vein Center & MedSpa wish you and your family a healthy and happy holiday season and New Year! We can't wait to treat you to your favorite self-care treatments at our medspa or other wellness services. You are our top priority! To learn more, please call 757.819.7633 or request a consultation online today.