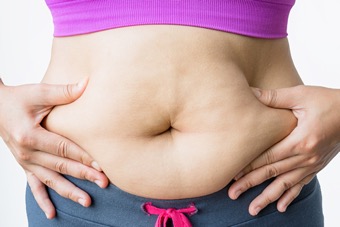 It's no secret that weight gain is one of the most challenging consequences of aging. Your metabolism naturally slows with age, which can make maintaining your youthful contours difficult. The good news is that you can avoid the mid-life pooch by making a few simple lifestyle adjustments.
Here's a look at some clinically proven belly busters:
Eat smarter.
It's no secret that cutting down on carbs offers major health benefits. Numerous studies indicate that low-carb diets promote faster weight loss than low-calorie plans. Lowering your carb intake also suppresses your appetite, helping you eat less, while also reducing water weight, blood sugar and insulin levels, blood pressure, and your risk for heart disease.
Walk the plank.
The plank is one of the best exercises for toning the tummy, but any exercise is helpful and healthful, from walking on your lunch break to simply standing more throughout the day. Just keep moving!
Cool it.
There's a reason why we call our "trouble spots" trouble. With a mind of their own, our pesky pockets of excess fat have the gall to stick around, ignoring our best attempts at diet and exercise. If you're eating right and exercising, and your belly still isn't responding the way you'd like, it's time to turn to CoolSculpting® to get the job done. The world's most popular non-invasive fat reduction treatment targets and trims your "trouble" spots with cooling energy, prompting your body to flush away the unwanted cells in the months following treatment. We offer the expertise and experience you need to achieve optimal results, receiving recognition as a Club 1000 member by CoolSculpting for performing more than a thousand successful treatments.
We're here to help you achieve your health and body contouring goals. To learn more about CoolSculpting and other aesthetic treatments, call 757.663.5461 or schedule your personal consultation today.