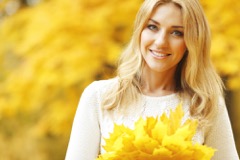 All day your skin works hard to protect your body from damage, disease, and the sun's UV-rays, and on top of all that we expect it to look great too? That's a lot to ask. Over time, this hard work can catch up with your skin, leaving it dull and lifeless. Luckily, Chesapeake Vein Center and MedSpa is here to help!
The Forever Young BBL™ Photofacial is one of our favorite treatments. It can help you clear your skin of redness, rosacea, age spots, freckles, and sun damage for smooth and clear skin that glows all day long. This FDA-cleared skin care treatment is unique because it uses broadband light (BBL) energy to combat the signs of aging more efficiently than with most other laser treatments. The wavelengths of light are absorbed by the blood vessels and excess pigmentation that cause discolorations in the skin, destroying them and clearing your skin for a more evenly toned complexion.
Photofacials take only 15-30 minutes to complete and you can see results after only a single treatment. However, we recommend undergoing a series of treatments in order to maximize your results. Best of all, photofacials require little to no downtime, so you can resume your regular daily activities immediately following treatment.
Call 757.663.5461 today to schedule your consultation and learn more about Forever Young BBL Photofacials in Chesapeake!