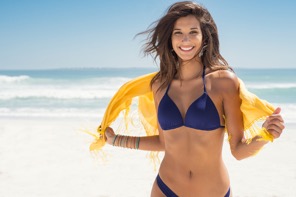 We know it's still only February, with months to go before beach season. But if you're interested in enjoying smooth, care-free skin for the summer, now is the time to schedule your laser hair removal treatments.
Here's a quick primer on getting the most from laser hair removal so you can don your bikini with the best accessory of all—confidence!
The magic number Is NOT 1.
Laser hair removal typically requires a series of treatments spanning several months. Specifically, we perform a series of 4 to 6 treatments spaced about 4 to 6 weeks apart to achieve your goals. Every person responds differently to treatment, however, so this is a rough estimate, not an absolute rule. Your best bet is to come in for a consultation, where we can assess your goals and study your skin and hair type to determine your optimal course of treatment. Factors that can affect treatment include the amount of hair and its color. Darker hair roots are easier to treat than lighter hair roots, for example. It also stands to reason that the more hair you have, the longer it may take to remove.
Protect your roots.
Laser hair removal requires your hair roots to be fully intact to be effective. The laser targets and disables your hair roots, preventing future hair growth. This means it's essential to stop removing your hair roots long before you receive laser hair removal. You should refrain from plucking or waxing or electrolysis for at least a few weeks or longer before your laser treatment. What's more, the color of your hair roots also makes a big difference in the effectiveness of your treatment. Before your consultation, pluck a random hair in your target area of removal. If your hair root is blonde or white, laser hair removal will not work. Laser hair removal requires dark hair roots, which can be easily detected by the laser. When in doubt, we can analyze your hair roots during your consultation.
Stay in the shade.
Avoiding exposure to sunlight both before and after your laser hair removal treatment is essential to preventing side effects like hypo or hyperpigmentation. Also, since the laser targets the pigment in hair follicles, tanned skin makes it more difficult to target. Lasers hate the sun, so to ensure your results and preserve your investment, be diligent about applying SPF 30 or higher every day of the year, rain or shine.
To schedule your laser hair removal consultation, please call  757.663.5461 or request your personal consultation online today!