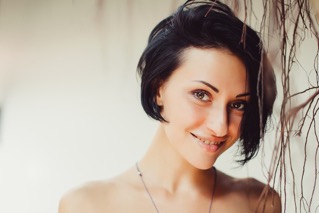 Gorgeous, glowing complexions aren't just for movie stars. If you're longing to make certain improvements to your skin (e.g., diminish acne scarring, lighten age spots, or tighten enlarged pores). here are some of the simplest and most effective tools to consider adding to your beauty arsenal.
365 Days of Sunscreen
The most powerful anti-aging tool on the planet is prevention with a capital "P." It's not glamorous, but protecting your skin from the sun with daily SPF application (rain or shine, 365) is the single-most important action you can take to maintain the beauty and health of your skin over the long term. Want to age gracefully and look younger than your years? Wear sunscreen. It's truly that simple.
Think small—micro-needling.
If you crave the skin-revitalizing benefits of Halo™ fractional skin resurfacing but are nervous about the downtime, it's time to consider micro-needling. What many people don't realize is that micro-needling offers many of the same benefits as Halo, but with less downtime. Because micro-needling provides milder skin renewal, we recommend a series of treatments to achieve optimal results.
Embrace retinoids.
Vitamin A is the star ingredient of retinoids, which speed cellular turnover and stimulate new collagen growth to reveal smoother, clearer, more youthful-looking skin. While many over-the-counter cosmetics and products contain mild retinoids, you can also obtain a prescription strength retinoid from your doctor, such as Retin-A, the first retinoid approved by the FDA to treat wrinkles. Retin-A is a proven acne treatment that can also smooth skin texture and improve the look of wrinkles with long-term use. With any retinoid, it's key to remember that a little a goes a long way. More product doesn't translate into greater or faster results. Try mixing a pea-sized amount with your favorite moisturizer to coat your face and neck before bed.
For more helpful skin care tips to achieve your brightest complexion, call 757.663.5461 or complete our online consultation request form today.