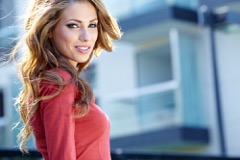 Becoming your most beautiful won't happen overnight. Like anything else in life, lasting beauty takes consistent care in order to blossom and thrive. Maintaining your skin is crucial to this process, and although it can feel difficult and time consuming, Chesapeake Vein Center and MedSpa makes it easy!
Receiving regular treatments in Chesapeake can help you achieve all of your aesthetic goals. Our friendly and knowledgeable staff, led by board-certified surgeon Dr. Surya Challa, will work with you to determine a safe and effective treatment plan that can rejuvenate your look and raise your spirits!
Skincare treatments like chemical peels, MicroLaserPeels, and Forever Young BBL™ Photofacials are perfect for clearing up blemishes, sun damage, and fine lines. These techniques are commonly used on the face, hands, neck, and décolletage, but are also effective for skin on other areas of the body. With a series of treatments spread out over one to two months, you'll see smooth, youthful-looking skin that you can be proud of.
Halo™ Fractional Laser treatments are also an excellent option. This groundbreaking laser treatment can help you reverse signs of sun damage like discoloration, sunspots, and wrinkles. While most laser treatments focus on simply addressing the surface layer of the skin, the Halo laser also rejuvenates deeper layers of the dermis for a longer-lasting and vibrant glow. Treatment takes only one hour, and requires less downtime than more aggressive options.
In Chesapeake we strive to bring the most comfortable possible experience to all of our patients, and we can't wait to work with you! Call 757.663.5461 to learn more about our treatment packages and to schedule your consultation today!