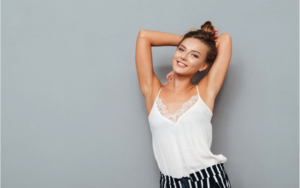 Unless you want to spend all day at the gym, no one on this planet is immune to dreaded flab. We all suffer from this natural consequence of gravity and aging to a certain extent. But we no longer need to be victims because we have a tool for taming our notorious trouble spots—CoolSculpting® non-invasive fat reduction!
We are thrilled to provide CoolSculpting because it's one more fabulous way we can help you achieve your very best. We see how hard you work to eat right and live a healthy lifestyle. Consider CoolSculpting extra support where you need it most to help you fulfill your goals.
In case you're not familiar, CoolSculpting is fabulous technology that destroys unwanted fat cells almost anywhere on the body by freezing them. Without any surgery or downtime, CoolSculpting can help you gain control over stubborn areas of fat on your body that are resistant to diet and exercise. You'll sit comfortably while the CoolSculpting machine gradually cools your targeted zones. From your double chin to your thighs and everywhere in between, CoolSculpting can help reduce fat cells and slim your contours for long-term benefits.
Sound good? Call  757.663.5461  or click here to schedule your consultation today!