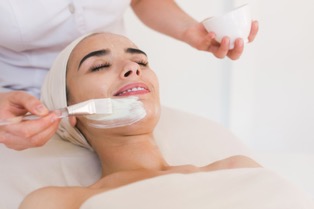 It's the perfect time of year to hit the refresh button on your skin, and a chemical peel is one of the easiest ways to do it. Ideal for almost every skin type and concern, a chemical peel is a relaxing treatment that can impart dramatic benefits to your complexion. Despite their effectiveness, however, misinformation about chemical peels abounds.
Here's a look at some of the myths we've heard about chemical peels and the truth behind them.
Myth #1
Chemical peels hurt.
The truth: Chemical peels use a mix of fruit acids to exfoliate the outermost layer of dead skin cells. You may feel a slight tingly or tight sensation as the acids work their magic, but you will not be in pain. On the contrary, you will feel utterly relaxed as our aesthetician gently applies the chemical peel solution to your face.
Myth #2
Chemical peels don't do much.
The truth: Chemical peels can reveal dramatic improvements to your skin's tone and texture, diminishing age spots, sun spots, melasma, fine lines, and roughness. For optimal results, we recommend a series of treatments.
Myth #3
You'll have to hide after your treatment.
Chemical peels may result in a day or two of pinkness for your skin, but you won't feel the need to wear a bag over your head. One of the best parts about a chemical peel is that it works gently to produce real results so you can enjoy radiantly refreshed skin without a lot of hassle.
To learn about the ideal chemical peel for your skin, call us at 757.663.5461 or complete our consultation request form today!