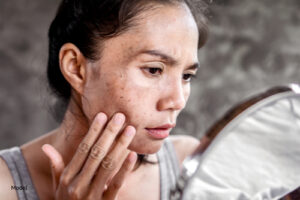 It's skin rejuvenation season! Do you know what that means? It's time to upgrade your skin care regimen with professional skin renewing treatments. We are excited to announce that we recently expanded our aesthetic services with custom clinical facials by Environ®. We also now offer diamond-tipped microdermabrasion treatments. (This month, we're offering 10% off our new services!)
In addition to custom clinical facials and microdermabrasion, Chesapeake Vein Center & MedSpa offers several other state-of-the-art technologies to help you achieve smoother, brighter, younger-looking skin. Here are a few tips for getting your most vibrant results with all our treatments!
Tip #1: Let your complexion challenges guide you to the right treatments.
• Uneven skin tone
How much time do you spend trying to cover up uneven pigmentation issues like redness, age spots, freckles or broken capillaries? If you find yourself relying on makeup more than you'd like, you'll absolutely love the BBL® photofacial. BBL stands for BroadBand Light, and it's the most advanced and powerful IPL treatment you can get. A series of BBL photofacials can help to clear up dark spots, fade redness and brighten dullness so you can flaunt a radiant glow naturally — with or without makeup. Plus, since BBL doesn't break the skin, there's no downtime with this treatment!
Environ medical-grade facials are also highly effective for targeting dark spots, dullness and other common complexion challenges. Rest assured, all our facials are customized to help you achieve your highest level of results. Our team can't wait to tailor your facial to your skin's exact needs.
• Textural issues
If rough texture, lines and wrinkles, large pore size, acne scars or other scars are keeping you from loving your look, you may benefit from Halo™ fractional laser skin resurfacing. Advanced Halo uses two forms of laser energy to stimulate your skin at multiple levels, revealing dramatic complexion improvements including smoother texture, smaller pores, brighter tone, diminished lines and wrinkles and more with minimal to moderate downtime. Your downtime will depend on the intensity of your treatment, but you'll love your newly refreshed complexion, which has literally been renewed!
Microdermabrasion is another proven tool for smoothing uneven skin texture. Plus, it doesn't involve any downtime, so you can easily fit a treatment into your busy schedule! Our diamond-tipped device gently removes the outermost layer of dead skin cells, revealing smoother, softer skin with a healthy glow. Microdermabrasion is lovely on its own or paired with a custom facial, chemical peel, medical-grade skin care products by Environ or several other aesthetic treatments. We can help you plan your perfect treatment during your personal consultation.
• Is melasma a big concern?
Certain skin types are prone to developing melasma, particularly darker skin tones. This stubborn skin concern is harmless, but it wreaks havoc on our confidence, causing unflattering dark patches to develop on areas of the face or body. The sun is one of the biggest triggers for melasma, which is why after a long summer, many people are eager to find skin treatments that can help! Luckily, we have just the thing for melasma and dark spots, and it's suitable for even the darkest skin tones: chemical peels! Our professional chemical peels use fruit acids and other results-driven ingredients to gently exfoliate the outermost layers of skin and reveal a smoother, brighter and more evenly toned complexion.
Tip #2: Commit yourself to your skin.
Are you a commitment-phobe when it comes to your skin? Do you skip from one skin product to the next, not really getting the results you want? Are you afraid to invest time and money treating your skin to professional skin treatments like Halo, BBL, MicroLaserPeel®, chemical peels, clinical facials or microdermabrasion? We are here to report that all our professional skin treatments are clinically proven tools designed to provide dramatic, even life-changing complexion improvements. Once you experience the results of skin rejuvenation treatments for yourself, we are confident that you'll be eager to continue caring for your skin for the long haul. This doesn't mean spending all your money on skin treatments, it just means strategically prioritizing yourself so you can enjoy seasonal treatments to help keep sun damage at bay and stimulate new collagen and elastin growth.
Tip #3: Treat yourself! You deserve it (and your skin will thank you)!
Caring for your skin is a lifelong pursuit, and we want you to love doing it! There's nothing better than that energized and intensely refreshed feeling you get after experiencing a professional skin treatment. Your skin is glowing and you feel amazing. You've invested in yourself and it shows!
To learn more about revealing your best complexion, please call or request a consultation online today.