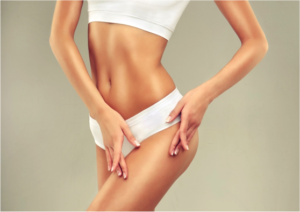 It feels good to be cutting edge. We were thrilled when CoolSculpting®, one of our favorite body-contouring treatments here at Chesapeake Vein Center and MedSpa, was recently featured on the prime time TV show Entertainment Tonight. This amazing non-invasive fat-reduction tool can dramatically trim your notorious "problem" spots with absolutely no downtime. It deserves attention! And we can fully attest that this innovative non-surgical body-contouring treatment delivers results.
On the off chance you haven't heard about CoolSculpting, here's the skinny! CoolSculpting actually reduces the number of fat cells in your body. It targets areas with excessive fat that are resistant to diet and exercise, such as your muffin top or love handles. In fact, it can tackle almost any area of the body, from your double chin to your thighs. CoolSculpting uses cooling technology to freeze your fat cells. Once your fat cells are frozen, your body naturally flushes them out over time, resulting in a trimmer, slimmer you.
What makes CoolSculpting so appealing is that it involves absolutely no recovery time, so you can go about your day immediately after your treatment. It also provides gradual, natural-looking results, making it the perfect complement to your diet and exercise routine. Who needs to know that you got a little extra help to achieve your slimmer contours? We won't tell!
Get in on the celebrity trend and schedule your CoolSculpting treatment today. Call us for a consultation at  757.663.5461.