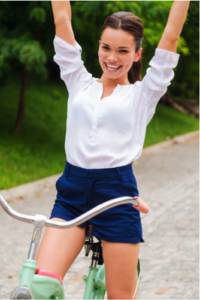 Many individuals struggle with stubborn and unwanted fat in problem areas like the back, arms, abdomen, inner and outer thighs, and buttocks. For both men and women, even proper diet and regular exercise can fall short of reaching desired results, leaving them feeling disheartened and discouraged. While surgical fat reduction methods like liposuction are available, surgery just isn't for everyone. Fortunately, CoolSculpting® non-surgical fat reduction treatments in Chesapeake provide a no-downtime alternative for patients who want to look slimmer and trimmer!
CoolSculpting treatments use revolutionary cryolipolysis technology to target the fat that doesn't seem to burn away with regular diet and exercise. During CoolSculpting treatments, the device freezes only the fat cells without harming any surrounding tissue or requiring any incisions. In the weeks and months following treatment, the fat is processed through the lymphatic system, leaving patients slimmer and trimmer without any scars or downtime.
We aren't the only ones who think CoolSculpting is one of the best treatments around. New Beauty Magazine has named CoolSculpting as the "Best Non-Invasive Fat Reducer" for the third year in a row in its annual Beauty Choice Awards. With an abundance of praise from leading magazines, satisfied patients, and devoted medical practitioners, it is clear that CoolSculpting treatments are the best for non-invasive fat reduction!
Call 757-663-5461 to schedule your consultation today.