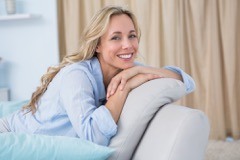 The beach is a place of summer fun in the sun. It is a place of relaxation where you can listen to the calming sound of the ocean and feel the warm rays on your skin. While we hate to be the bearers of bad news, the beach can also be a dangerous place. Too much exposure to the sun can take its toll on your skin, even if you're diligent about using sunscreen. Over time, this over-exposure can compound and eventually cause your skin to break down, just like accumulating miles on a car. Luckily, Chesapeake Vein Center and MedSpa offers several solutions for repairing your skin.
One such solution is a chemical peel. This safe and effective treatment can help to improve the appearance of numerous skin conditions brought on by sun exposure. Chemical peels come in three different strengths, each with an increasing level of exfoliation. During your consultation, our staff will recommend the peel that is right for you.
Another post-summer treatment is a photofacial, which uses light energy to target the effects of sun damage on the skin. Photofacials can be used on the face, hands, neck, and chest, and can eliminate brown spots, rosacea, redness, and fine lines. They are non-invasive and take only 15-30 minutes to complete.
Chesapeake Vein Center and MedSpa also offers a variety of laser treatments that can improve the look and feel of your skin. Both the MicroLaserPeel® and Halo™ Fractional Laser can reverse signs of sun damage and give your skin a beautiful, smooth texture that looks vibrant and is soft to the touch.
To learn more about any of our post-summer skin treatments in Chesapeake, give us a call at 757-663-5461 and schedule your consultation today!