We get excited about spring cleaning – our complexions, that is! Even though many of us are stuck inside for good reason, we can still "spring clean" our complexions with the right tools. Best of all, treating yourself to results-driven skin care is just the ticket for boosting your mood and energy, so you should think of the following skin care tools as self-care.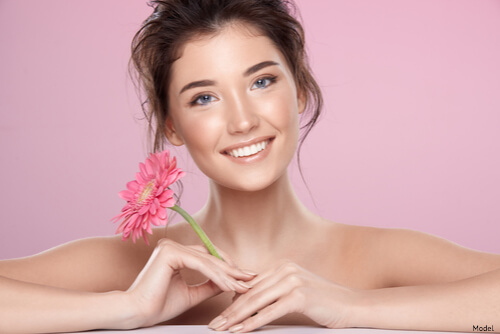 Medical-grade skincare products
While you're spending time at home, it's a great opportunity to clear out the dusty bottles and containers of skincare products that expired or that you decided don't work for your skin. While you're at it, we recommend you come full-circle and replace them with medical-grade skincare, which you can purchase here. We proudly offer SkinMedica® skin care. Our expert team will ensure that you're investing in a product that is clinically proven to address your skin concerns and improve your complexion. If you're an existing client, simply call us to schedule a phone consultation, where we will evaluate your skin type and aesthetic goals and recommend the right products for you: 757.802.4334.
When our office reopens, consider scheduling:
Halo™ fractional laser skin resurfacing
We love giving our clients Halo because this laser skin resurfacing treatment can significantly improve the tone and texture of your complexion. Halo uses laser energy to create tiny micro-injuries to your skin. Those micro-injuries stimulate the production of vibrant new collagen, which smooths wrinkles, improves texture irregularities and provides dramatically renewed and younger-looking skin.
BBL™ photofacial
BBL (broad band light) photofacials are a non-invasive light treatment that help to reduce hyperpigmentation like sunspots, freckles, age spots and more. BBL can treat your face, neck, hands and chest, so your skin looks naturally – and evenly – improved. We also provide Forever Young BBL™, which provides all the great benefits of BBL and is ALSO clinically proven to help your skin look noticeably younger.
Chemical Peels
If you're looking for fast, effective anti-aging results AND a deep-clean feeling, chemical peels are a terrific choice. Chemical peels are suitable for most skin types, and can improve the look of wrinkles, hyperpigmentation and more. With a chemical peel, we'll remove the dead skin cells on your skin's surface, leaving you with an overall smoother and brighter complexion. Chemical peels can be applied to your neck and chest as well as your face, so they are another way you can enjoy well-balanced rejuvenation.
While our office is currently closed, we are taking phone calls from our answering service and will get back to you as soon as possible! Please call (757) 819-7633 with any questions you may have or to request an online skin care consultation.