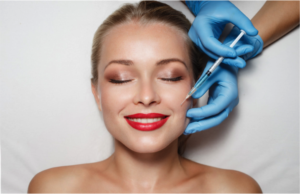 Did you know that dermal fillers are one of the fastest growing cosmetic treatments on the market? Last year alone, nearly 2.5 million people opted for a hyaluronic acid-based injectable, making it the second most popular non-surgical cosmetic treatment in the US.
We're not surprised because we frequently perform successful dermal filler sessions at our Chesapeake office using FDA-approved Juvéderm®. This efficient and well-tolerated treatment can rejuvenate your appearance in a matter of minutes, restoring lost volume, smoothing fine lines and wrinkles, and delicately plumping lips. What's not to love? However, some people may still be nervous about getting fillers. Here are three common concerns, along with our expert advice to calm their fears.
How can I be sure I won't look "fake" and puffy?
Don't let certain stars of reality TV spoil your opinion of dermal fillers! When performed correctly and in the hands of skilled and nuanced injectors like Dr. Surya Challa and the team at Chesapeake Vein Center and Medspa, dermal fillers can provide subtle volume and smoothing to the skin for a refreshed, younger-looking appearance that is never "puffy" or "overdone." No one should be able to tell you've undergone a dermal filler treatment. The only thing they'll notice is that you look amazing, and you'll leave them wondering what your secret is!
Will I get bruises all over my face?
Any time an injection is involved, there is a risk of bruising. That said, bruising is rarely severe or all over the face. We recommend applying ice packs before and after every treatment to help shrink blood vessels and reduce the risk of bruising. Avoiding alcohol and other blood-thinning substances (e.g., non-steroidal anti-inflammatories, fish oil, ginger, green tea, and vitamin E) can also reduce your risk.
Will I need to hide at home after my treatment?
Not unless you want to relax! After icing the treatment area for a few minutes to reduce any swelling, you should be able to touch up your makeup and go about your day enjoying your rejuvenated appearance.
Last, but certainly not least: Choosing a highly skilled injector like Dr. Surya Challa who is well-versed in the anatomy of the face is the most essential element of every successful dermal filler treatment. Call  757.663.5461  or click here to schedule your consultation!