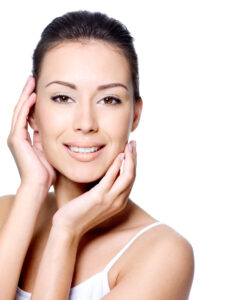 Glowing, radiant skin is a beautiful feature, but most people don't start to notice the importance of a good skin care regimen until that youthful appearance starts to go away. A comprehensive skin care regimen can help keep your facial skin smooth and tight, but even the most dedicated application of moisturizers and exfoliating products can't prevent fine lines and wrinkles from appearing with age. Recapturing the bright appearance from your youth isn't easy, but one patient explained how Chesapeake Vein Center and MedSpa in Chesapeake, Virginia helped her look as young as she felt.
"I wanted my healthy, glowing skin back. Even though I have followed a pretty careful regimen of cleaning and moisturizing my face, the sun damage from my youth was becoming more and more noticeable: fine lines, wrinkles, age spots, you get my drift.
 Then I heard about a new treatment offered exclusively at Chesapeake Vein Center. It's called Halo, and I was invited to experience the procedure and share my thoughts about it. Dawn Adkins, master esthetician, performed the procedure with guidance from Dr. Surya Challa, a surgeon who owns the practice. The appointment lasted about two hours, with the actual procedure lasting about 20 minutes. I have to say the treatment was a little painful. I'd had a laser treatment once before on some age spots, and I compared that to the flicking of a rubberband. Halo was more intense, sort of like lots of little rubber bands in a concentrated area.
 What I was feeling were tiny lasers entering the pores of my face and removing discoloration, reducing fine lines, and stimulating collagen growth. Before the procedure, Dawn applied a topical ointment, which numbed my face somewhat, but I was still glad when the procedure ended. Afterwards and at home, my face felt hot, but Dawn gave me a cooling face mask to soothe my skin.
 A couple days after the procedure, my face started peeling. The dead skin cells were being expelled through the pores, giving my face a sandpaper-y texture. I didn't look noticeably different when the skin was peeling, but if you looked closely, you could see tiny dots in areas of my face, which overall gave it a kind of ruddy appearance—easily covered by makeup.
 This phase didn't last long, though, and within a week, my skin felt fresh and new. I wanted it to be dazzling and glowing right away, but in fact, it took about two weeks for my skin tone and texture to noticeably improve. From then on I have seen additional improvement in my face. There are definitely fewer fine lines and wrinkles. My age spots have almost disappeared. My face feels plumper thanks to the collagen that was stimulated during the Halo procedure. Best of all, my skin seems more radiant and youthful than before.
 Results will vary of course, but Dawn takes before and after photos so you can actually see the improvement in your skin. There are also varying levels of intensity, so if you want faster results, you can request a more aggressive treatment. Mine was on the light side, yet I am still pleased with the results. Some patients like to have 2-3 lighter treatments to achieve optimal results over a longer period of time.
According to Dawn, the dermal regeneration phase will continue for the next few months! I'm excited to see how much more my skin tone improves."
To learn more about Halo Fractional Laser Skin Resurfacing at Chesapeake Vein Center and MedSpa, call us at 757-663-5461 today!