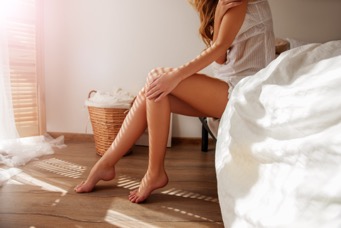 While almost everyone knows about varicose veins, a common symptom of vein disorders, many are not aware of the more subtle symptoms of venous insufficiency.
Does the skin on your legs ever burn, itch, or alter in color or texture for no expected reason?
Do your legs frequently ache or throb with pain, or feel weak after long periods of standing?
If so, you may be suffering from venous reflux disease, a common vein disorder affecting an estimated 2.5 million Americans each year.
Here's a closer look at venous reflux disease, and what you can do to protect yourself.
What is venous reflux disease?
Venous reflux disease, or venous insufficiency, is a vein disorder that impairs the circulation of blood flow in your lower legs and feet. Tiny valves in your veins are responsible for sending blood back towards the heart. When these valves stop functioning, it causes blood to pool up in the legs, resulting in bulging or distended veins and other uncomfortable symptoms, such as achy, throbbing legs.
What is my first step?
Report your symptoms to a vein specialist, who will then schedule a thorough medical evaluation. Board-certified vein specialist and surgeon Dr. Surya Challa uses Venous Duplex Ultrasound imaging to scan and identify your affected veins and provide an accurate diagnosis. Our Venous Duplex Ultrasound Lab enables in-depth imaging of your leg veins so we can accurately analyze your condition and devise the most effective and efficient treatment.
What are my options for treatment?
Depending on your particular concerns, possible treatment may include radiofrequency ablation, ambulatory phlebotomy (microphlebectomy), or sclerotherapy.
Dr. Challa has performed thousands of successful venous procedures, and offers the skill and experience to help you regain your vascular health. Schedule your consultation by calling 757.663.5461 or clicking here today.