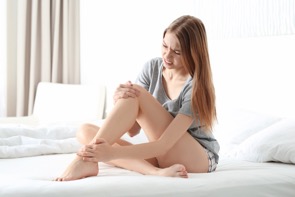 You're comfy in bed, trying to fall asleep, when you're suddenly seized by an excruciating calf cramp! We've all experienced random aches and pains in our legs, but some of us suffer from them more frequently.
Are you a victim of nighttime leg cramps? Here's a closer look at this common affliction, and what you can do to find some relief, according to WebMD:
Causes of leg cramps
Oftentimes, no apparent cause can be found for night-time leg cramps, but possible culprits run the gamut, including:
•Flat feet
•Being over age 50
•Dehydration
•Overworking muscles
•Sitting too long without moving
•Standing too long on hard surfaces
•Diabetes, alcoholism, low blood sugar, or hypothyroidism
•Imbalance of calcium, potassium, or magnesium
•Blood pressure medication, cholesterol lowering drugs (statins), diuretics (water-retention relievers) and oral contraceptives
Preventing leg cramps:
•Hydrate with plenty of fluids to avoid dehydration
•Stretch leg muscles before bed
•Sleep under loose covers
•Move throughout the day
•Eat a banana (potassium helps! Magnesium and zinc help, too!)
•Wear comfy shoes
When you're having a leg cramp:
•Flex your foot up toward your head
•Pull your toes toward you.
•Massage the cramped muscle
•Walk or jiggle your leg
•Take a hot shower or warm bath
See a doctor:
•If leg pain is severe and frequent, disrupting your sleep and causing drowsiness during the day
•If legs feel weak
Vein surgeon Dr. Surya Challa is a board-certified vein specialist with decades of acclaimed experience helping patients achieve optimal vein health and comfort. Dr. Challa will examine your legs and carefully consider your medical history to rule out any underlying health concern as a cause, such as a vein disease. Dr. Challa and his team are eager to help ease your pain! To learn more, please call 757.663.5461 or request your consultation online today!