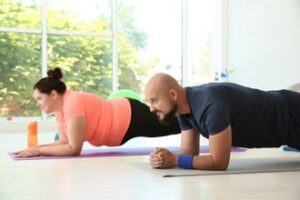 Unless you're a bodybuilder who works out for a living, there's only so much you can do to control your contours. Even if you eat right and exercise, and you're near your ideal weight, you may still be plagued by "stubborn" pockets of fat that simply won't budge no matter how many crunches or sit ups you do.
Does this scenario ring a bell? You are not alone! In fact, you are one of millions of people across the world who struggle with "problem spots" of pinchable fat like "bat wings," "muffin tops," and double chins. Fortunately, we've got good news for you!
1) Though unsightly, pinchable fat is harmless.
2) Even if you're losing only a little bit of weight—it still helps your health! Shedding just 5 percent of your weight helps to reduce your risk for cardiovascular disease, improve blood sugar and blood pressure, boost your mood, and much more!
3) Last, but far from least—pinchable fat can easily be reduced with non-invasive CoolSculpting® in Chesapeake!
Pinch-an-inch fat used to be indestructible until CoolSculpting® came along. CoolSculpting is a non-invasive treatment designed especially for your problem spots, targeting unwanted fat cells by freezing them with cooling panels and prompting a gradual purging process, as your body flushes away the disabled fat cells in your urine in the months following your treatment.
The best part about CoolSculpting is that it's the perfect complement to a healthy lifestyle, helping you get closer to your body contouring goals without having to toil away hours at the gym. CoolSculpting is no substitute for exercise, but it can certainly help where exercise can't, reducing stubborn fat without invasive measures and little to no downtime.
To learn how CoolSculpting in Chesapeake can help you get closer to your body contouring goals, please call 757.663.5461 or request a consultation today!