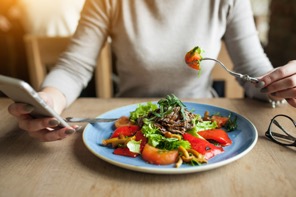 It's World Health Day this Sunday, April 7th! We're inspired to kick our health up a notch, and we hope you are, too! If living healthy sounds overwhelming, rest easy. Getting healthier isn't an all-or-nothing proposition. Even the smallest steps can reap great rewards!
Here's a look at some surprisingly easy health care tips to consider adding to your playbook this spring:
Say goodbye to 4 squares.
Have you heard of The New American Plate? It's a new way of eating developed by the American Foundation for Cancer Research that scraps 4-square meals in favor of a healthier food ratio—namely, that every meal should aim for a balance of one-third protein and two-thirds plant-based foods. Backed by research, the New American Plate helps to stabilize weight, boost your overall health, and lower your risk for disease.
Stand up more.
There's no need to start training for a marathon. If you want to improve your health, simply standing more throughout the day can drastically reduce your risk of mortality. Another easy health move: Jogging up the stairs or parking in a distant space so you walk further all add up to big health benefits.
Treat yourself!
When was the last time you rewarded yourself with a medspa treatment? You deserve to look and feel your best, and there's no better time than spring to refresh your look. Studies show that self-care acts like enjoying a skin treatment are super healthy for your insides, too, by lowering stress and boosting your mood.
We can't wait to help you achieve your wellness and aesthetic goals this year! To discover your path to optimal vitality, please call  757.663.5461 or request your consultation online today!