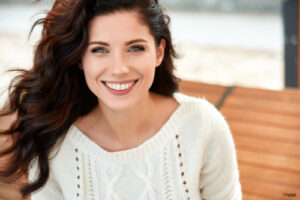 Laser skin rejuvenation season is here! Get ready for laser skin treatments NOW by scheduling your series of BBL® photofacials or your annual Halo®. Laser treatments are an autumn and winter staple because lasers increase your skin's sensitivity to sunlight. These colder months give you the perfect excuse to stay indoors and protect your skin while it heals.
Here's how laser skin rejuvenation can help you achieve dramatic complexion improvements and reveal radiant, younger looking skin that lasts:
Reverse summer sun damage with BBL photofacial.
The secret to a radiant, evenly toned complexion? The advanced, clinically proven BBL photofacial, of course! BBL stands for broadband light, a form of intense pulsed light (IPL) that stimulates vibrant new collagen and elastin growth for a wide range of complexion benefits without downtime. BBL photofacial is considered the gold standard for correcting uneven skin tone, erasing age spots, sunspots, brown spots and freckles, eradicating broken capillaries and small veins, banishing redness and rosacea and brightening dullness. While significant improvements can be seen after just one BBL, we recommend a series of three to five photofacials to see optimal results.
Get your glow on with Halo laser skin resurfacing.
Have you heard of the Halo glow? With state-of-the-art Halo fractional laser skin resurfacing, you can achieve a smoother, brighter, more youthful complexion with incredible ease. The first of its kind, Halo features the intense renewing power of a hybrid laser, using two types of laser energy — ablative and non-ablative — to stimulate skin at multiple levels with only minimal to moderate downtime. Halo can help improve the appearance of fine lines and wrinkles, acne scars, hyperpigmentation, age spots, dullness, pore size, sun damage and so much more! Best of all, one Halo treatment is all you need to enjoy these impressive complexion benefits. To maintain your results for the long term, we recommend undergoing maintenance treatments once a year or every few years.
See optimal results by the holiday season!
We encourage you to undergo laser skin treatments as soon as possible in the fall months to get you holiday ready. With BBL photofacial, improvements can be seen as early as a few days following your treatment, with continued improvements in the weeks following. And with Halo, you can expect to see improvements in the first month as your skin renews itself and produces vibrant new collagen and elastin. The first step is to assess your skin's needs and your candidacy for treatment during your personal consultation with our expert team. From there we will design a treatment plan best suited for your unique needs and goals.
Ready to fall in love with renewed, rejuvenated skin? Learn more about our laser skin treatments and get started today by calling 757.663.5461 or requesting a consultation online.