A hernia happens when an internal organ like your intestine protrudes through the wall of muscle or tissue that normally contains it. You may feel a lump in your abdomen or near your groin, which is where most hernias occur, but you can also experience a hernia in your stomach or from a former incision. No matter which type of hernia you have been diagnosed with, you're in the best of hands with board-certified surgeon and vein expert Dr. Surya Challa.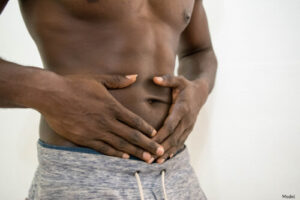 Dr. Challa performs hernia repair surgery in Hampton Roads using state-of-the-art tools and techniques such as laparoscopic surgery to keep incisions small and patient downtime and discomfort minimal. Dr. Challa will carefully study your condition to determine which type of surgery is best for your needs. Robotic surgery and open surgery are other viable options.
How can you tell if it's a hernia?
Sometimes, a hernia has no symptoms, but common signs of a hernia include:
• A lump/bulge in your lower abdomen or near your groin.
• Pain in lump/bulge when coughing, bending or lifting.
• Swelling or bulge in the groin or scrotum
• Increase in the bulge size over time
• A dull aching sensation
• A sense of feeling full or signs of bowel obstruction
What's the most common cause of a hernia?
Strained abdominal muscles resulting from:
● Heavy lifting
● Chronic coughing
● Chronic constipation
What type of hernia do you have?
The most common type of hernia is an inguinal/abdominal hernia, which causes a lump in your lower abdomen near your groin. With this type of hernia, you may feel pain when coughing, bending or lifting.
You may have a hiatal hernia, when part of the stomach pushes up through the diaphragm, if you experience heartburn, indigestion, difficulty swallowing, frequent regurgitation (bringing food back up), and chest pain.
A femoral hernia mainly affects older women and occurs when fatty tissue or part of the intestine protrudes into the groin at the top of the inner thigh as a result of strained muscles.
An incisional hernia occurs when tissue protrudes through the site of an abdominal scar from a remote abdominal or pelvic operation.
How will your hernia be repaired?
Dr. Challa repairs most hernias using state-of-the-art laparoscopic surgery and 3D imaging. There are several major advantages to laparoscopic hernia repair over traditional hernia repair, including:
● More patient comfort/less post-operative discomfort
● Smaller incisions, resulting in less scarring
● Ability to detect and repair second hernia using same incision points
● Ability to repair recurrent hernia
Are you ready to discover which type of hernia treatment is right for you? To learn more, please call 757-819-7633 or request a consultation online today!