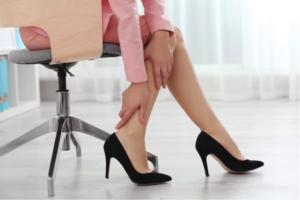 Dr. Surya Challa is passionate about veins. He's on a mission to help you achieve healthy veins and healthy legs. As Chesapeake's premier vein surgeon, he offers the most advanced, minimally-invasive treatments for a wide range of vein disorders, including varicose veins, venous insufficiency, venous reflux disease, and more.
We aren't supposed to notice our veins, so when they start bulging out of the skin and become painful, it can be quite upsetting and impair our quality of life. Dr. Challa wants you to know that there are easy and efficient solutions for many vein disorders. Here are two effective options at Chesapeake Vein Center and MedSpa:
Radiofrequency ablation
Dr. Challa uses Venefit™, the most advanced radiofrequency ablation treatment available to ensure less pain, fewer side effects, and a speedier recovery than other ablative methods. During this treatment, Dr. Challa makes a small incision to insert a catheter inside the troubled vein. The catheter then channels radiofrequency energy to the targeted veins, heating and damaging the vein walls from within and disrupting their blood flow. With a treatment time of only 15 minutes, this method is also one of the most efficient.
Sclerotherapy
Sclerotherapy involves injecting saline solution directly into the vein, causing it to constrict, close, and gradually fade from view. This treatment is ideal for spider veins, and several sessions are recommended to see optimal benefits.
Before every treatment, Dr. Challa maps your veins using Venous Duplex Ultrasound, a highly effective imaging system that uses ultrasound to create detailed pictures of your legs. Dr. Challa uses these images to accurately assess and treat your affected arteries and veins. He will work with you to formulate the most effective and efficient treatment plan.
Your comfort is a phone call away! For healthier veins, call 757.663.5461 or click here to schedule a consultation today.