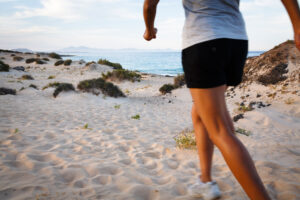 Do you suffer from pain or fatigue in your legs, swollen ankles and calves and burning or itching skin? If so, you may suffer from venous reflux disease, a condition in which your leg veins are not properly allowing blood from your lower limbs to return to the heart causing pain and swelling in the legs and feet. Unfortunately, these varicose veins will not subside by themselves and will only continue to worsen as time goes on. Luckily Dr. Challa at Chesapeake Vein Center and Medspa has the solution!
There are three options for varicose vein treatment in Chesapeake, VA. The first is Radiofrequency ablation in which radio waves create heat to close off varicose veins, stopping your pain and discomfort. The second option is Ambulatory Phlebectomy in which Dr. Challa will safely and effectively remove the varicose veins completely and re-route blood flow to a healthier vein. The final option is sclerotherapy in which saline is injected into the vein causing it to constrict and fade from view. This varicose vein treatment makes for healthier, younger looking legs in a matter of weeks.
Dr. Challa and his staff at Chesapeake Vein Center and Medspa are dedicated to solving your vein problems whatever they may be. He will help you be back on your feet and proudly walking down the beach all before the end of summer!
For more information regarding Varicose Vein Treatment at Chesapeake Vein Center and MedSpa, call for your personalized consultation today at 757-663-5461 or email hello@chesapeakeveinmedspa.com