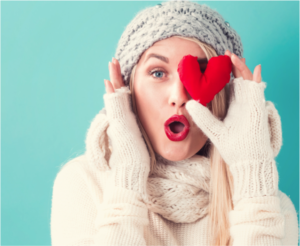 What is the best accessory for a romantic dinner this Valentine's Day? Here are a few hints: It will make you glow and give you months of satisfaction, which rules out roses (they last a week) and chocolates (which are more likely to incur bloating than glowing).
Give up? The answer is fractional laser skin resurfacing!
Though it's not a typical Valentine's Day treat, laser skin renewal is a sensational gift for you or a loved one. Here's why:
It delivers.
Unlike facials, which are relaxing indulgences for feeling pampered but don't really do much else, laser skin renewal delivers amazing benefits to the skin—specifically, smoother, more evenly-toned skin with diminished lines, wrinkles, age spots, and more. The only caveat is a bit of downtime. Since laser skin renewal rejuvenates your skin from deep within by triggering your body's natural healing response, you are likely to experience redness and peeling for a few days as your skin cells regenerate and replace damaged cells.
It's a gift that keeps on giving.
Because fractional laser skin renewal is literally creating new collagen and elastin from deep within, your benefits are gradual, taking weeks and months to fully reveal optimal results. Imagine waking up each day to better skin. Now that's a great gift!
It's healthy.
Laser skin renewal creates a healthy layer of vibrant, new skin. What could be better for your skin than removing dull, tired skin cells and sun damage while prompting fresh new skin to grow? The only caveat here is that you'll need to be vigilant about protecting your fresh skin from the sun. Rain or shine, winter or summer, wearing an SPF of 30 or more daily is vital.
Think outside the chocolate box this year and give the gift of radiant skin! For more information, call 757.663.5461 or click here to request a consultation today.