venous reflux disease
.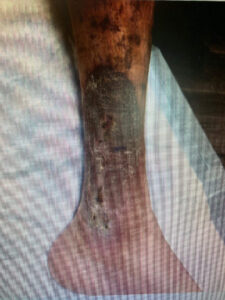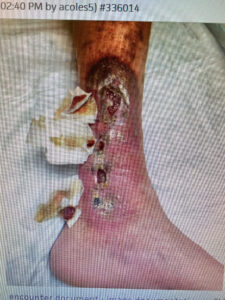 If you are experiencing open sores on your legs or ankles, we encourage you to reach out to us immediately at
(757) 819-7633
and we can help you get the top-quality treatment you need and deserve. Our medical director, Dr. Surya Challa, is a board-certified general surgeon and acclaimed vein specialist who has been performing varicose vein procedures for 12 years. He has performed over 2,000 procedures! He is also a Diplomate of the American Board of Venous and Lymphatic Medicine and is a registered phlebology sonographer. It is our goal to make sure all of our patients have the chance to be informed about their conditions and symptoms. With that in mind, here is what you should know about venous ulcers:
What are they?
Venous ulcers are open skin sores on the leg caused by problems with blood flow in the veins of your legs. In a normal situation, when you get a cut or scrape, your wound heals itself over time. Venous leg ulcers may not heal without proper treatment, which is why it's so important to make sure they are treated promptly and correctly.
What can cause them?
Venous ulcers most often occur as a result of damage to the valves in your leg veins. The valves in your veins control your blood pressure, allowing it to drop when you walk. If the blood pressure in your leg veins doesn't decrease when you walk, that is a condition called sustained venous hypertension. It is this constant increase in blood pressure that causes ulcers to form on your ankles or legs. Venous ulcers can also be caused by other problems, such as varicose veins and chronic venous insufficiency. Both of these are characterized by the valves in your leg veins not working properly, and therefore being unable to pump blood back to your heart, meaning that it pools in your legs instead. This causes your veins or legs to swell from increased pressure.
What can you do to treat them?
If you currently have an open venous ulcer, the most important things to do are: • Regularly clean the wound • Apply a dressing to the ulcer • Avoiding using products that cause skin sensitivity (including those with fragrances) • Wear compression stockings to speed healing and keep blood from pooling in your leg • Apply an antibacterial ointment to prevent or treat any infection • Take oral antibiotic medicines (as prescribed by a doctor) While you are doing your part, the next step is to visit our practice. For venous disease or severe varicose veins,
radiofrequency ablation
is a safe, effective and minimally-invasive treatment. It uses radiofrequency energy to heat and damage the inner walls of your varicose veins, causing scar tissue to form inside the vein. This closes off the vein and results in blood flow being redirected to healthy veins. Over time, your body will absorb the varicose vein, causing it to fade from view.
How can you prevent venous ulcers?
The key to preventing venous ulcers is preventing vein problems in the first place. Therefore, it's important that you: • Avoid smoking • Maintain a healthy weight • Regularly exercise or otherwise stay active • Move around frequently, even if just getting up from your chair every 20 minutes or so • Elevate your legs for a bit, especially if you've been standing for most of the day If you have any questions or concerns regarding venous ulcers, venous disease, varicose veins or any other blood circulation concerns, please reach out to us today at

(757) 819-7633

or

request a consultation online

. We are here to help you find long-term relief! Source:

Venous Ulcers

Most people likely understand how bothersome, uncomfortable or even painful varicose veins can be. They can truly impact the quality of your daily life, which is why our team here at Chesapeake Vein Center & MedSpa is dedicated to treating varicose and spider veins, as well as other vein-related concerns. One such concern, however, can be quite severe and is the sign of extensive vein issues. We're talking about venous reflux disease, also known as venous insufficiency, and specifically venous leg ulcers, which are typically the worst symptom people can experience from