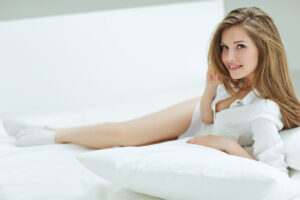 Visible veins on the legs, body, or hands, also known as spider veins, can be an unwanted addition to your physical appearance. If you are covering up or feeling self-conscious about visible veins, Dr. Surya Challa at Chesapeake Vein Center and MedSpa is the vein treatment expert with the solution to your vein problems!
Dr. Challa has performed more than a thousand sclerotherapy procedures in the Chesapeake, Virginia area, and is a renowned vein specialist that consistently delivers impressive results. Sclerotherapy treatments are safe and effective at reducing the appearance of unwanted veins, and are a quick procedure that can be done in as little as one treatment.
During sclerotherapy treatments in Chesapeake, Virginia, a saline solution is injected directly into the visible vein. This solution causes the vein to shrink and eventually dissipate from view, leaving you with the sleek and smooth appearance you are longing for! No anesthesia is required and most patients feel only a slight pinch at the injection site before seeing the dramatic and transformative results from Chesapeake Vein Center and MedSpa!
Laser Vein Treatments can also be effective in reducing spider veins for patients in the Chesapeake area. Laser Vein Treatments at Chesapeake Vein Center and MedSpa use directed light energy to heat the vein until it disappears from view for a clearer, younger look that keeps patients confident in their skin!
Don't let unwanted veins keep you down. Show off your legs and hands with confidence thanks to sclerotherapy and laser vein treatments at Chesapeake Vein Center and MedSpa today, and see optimal results before springtime.
For more information on Dr. Challa and vein treatments at Chesapeake Vein Center and MedSpa, schedule your consultation by calling us at 757-663-5461 today!