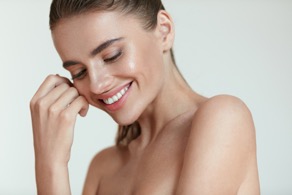 If your goal is radiant, glowing skin, look no further! At Chesapeake Vein Center & Medspa, we know the secret to gorgeous skin—it's a combination treatment using Halo™ laser skin renewal and BBL™ photofacial. This proven treatment pairing provides an incredible range of complexion benefits, including smoother, brighter, younger-looking skin with smaller pore size, diminished wrinkles and age spots, more even tone, and much, much more! If you'd like skin that glows this spring, here's a closer look at the science behind the results.
Halo resurfaces your skin.
Halo uses two types of laser energy to create tiny treatment channels, or "controlled injuries," to your skin. These "injuries" trigger your skin's natural healing response, spurring healthy, new skin cells, literally replacing your skin with a vibrant, new surface. This advanced resurfacing action is why Halo creates such smooth, luminous-looking skin.
BBL brightens your complexion and improves your tone.
BBL photofacial is a non-invasive light treatment that improves pigmentation irregularities, such as age spots, sun spots, melasma, redness, small broken capillaries, and so on. This potent light treatment also triggers your skin's natural healing response, prompting healthy new collagen and elastin growth.
Synergistic benefits
The combination of Halo and BBL truly can't be beat for skin renewal and complexion benefits. These two treatments work together to boost your skin's natural healing response for intense revitalization with about a week of social downtime.
Discover how Halo and BBL can make you glow by calling  757.663.5461 or requesting your personal consultation online today!