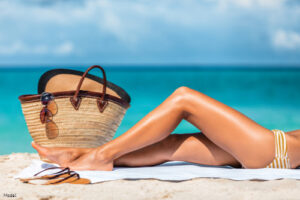 Instead of spending your summer days with razor burn, ingrown hairs and the pain of waxing, why not invest in laser hair removal treatments now and enjoy smooth, hairless summer skin without the hassle? Chesapeake Vein Center & MedSpa is here to offer you long-lasting results with this safe and effective hair removal treatment.
Without further ado, here's why you should ditch the razor and go for the laser for a hair-free, carefree summer:
Laser hair removal effectively slows hair growth.
During a laser hair removal session, we use the laser's light energy to target and disable your active hair follicles while leaving the surrounding area unharmed. Since hair grows in cycles, you'll need to undergo multiple treatments over the course of several months, which is why spring is the perfect time to start. Plus, you'll be in and out quick, with most sessions only taking between 15 and 45 minutes. Laser hair removal commonly treats the following areas:
Legs
Underarms
Bikini area
Lip
Chin
Sideburns
Chest
Expert tip: To improve the treatment's effectiveness and reduce the risk of side effects, in the days before your laser hair removal treatment, we recommend you avoid being in the sun, tanning and irritating your skin with methods such as waxing and plucking. (The other reason to avoid waxing and plucking is that you need to preserve your hair roots, which need to be intact for the treatment to work.) Patients typically experience minimal discomfort during and after a laser hair removal session, though there is a possibility of slight redness that should dissipate within 20-30 minutes after treatment.
Laser hair removal is safe for all skin types.
The most ideal candidates for laser hair removal are those with dark hair and light skin. This is because the laser is attracted to the pigment in hair, so darker hair absorbs the laser more effectively. But anyone with excess body hair who is looking to reduce or remove hair from both large and small areas may benefit from this treatment. To learn if you are a candidate for laser hair removal, schedule your personal consultation with our team today.
Laser hair removal offers noticeable, touchable results.
You can expect to see a reduction in the number of hairs in your treated area one to three weeks after treatment. As we mentioned before, maximum results and longer lasting hair removal will require multiple treatments.
Your silky-smooth summer skin is just a consultation away! To learn more about laser hair removal at Chesapeake Vein Center & MedSpa, call 757.663.5461 or request a consultation online today.