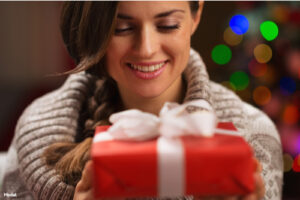 Want a gift that keeps on giving even after the holiday is over? How about three? What if we told you there are three types of treatments that'll provide long-lasting results and they're all offered here at Chesapeake Vein Center & Medspa! Whether you're looking to undergo some serious skin rejuvenation, body sculpting or minimally invasive vein treatments, you are in the right place. Here's a closer look at the top treatments to gift yourself this holiday season:
Laser skin rejuvenation
Did you know winter is the perfect time to undergo laser skin treatments? After a laser treatment, your skin needs time to heal away from the sun. So, you can stay cooped up indoors away from the cold (and the sun) waiting for your skin to reveal glowing results! We've got two laser skin rejuvenation treatments we think you'll love, starting with BBL® photofacial. BBL is a non-invasive intense pulsed light (IPL) treatment that stimulates your skin, removing dark spots and sunspots, redness, small veins and more. You can enjoy more evenly toned skin on your face, neck, hands, chest and almost anywhere! BBL photofacials also stimulate new collagen and elastin from within, creating a more youthful complexion over the long term.
The second laser treatment you should consider is Halo™ laser skin resurfacing. Halo is the world's first hybrid fractional laser, combining ablative and non-ablative wavelengths in one device. With minimal downtime, Halo can help treat wrinkles and fine lines, sun damage, enlarged pores, dullness and more. Best of all, you'll see noticeable improvements within weeks of your session, with continued improvements in the following months as your skin grows new collagen and elastin. There's no time like the present to give yourself the gift of skin rejuvenation, you deserve it!
Body contouring
We've got great news! There's a way for you to improve trouble spots of fat without downtime or invasive measures, and it's called CoolSculpting® non-invasive fat reduction. FDA-cleared CoolSculpting is one of the most amazing inventions of the decade and has helped millions of people reduce stubborn fat bulges. How does it work? CoolSculpting freezes and destroys fat cells with non-invasive cooling technology. Once frozen, the targeted fat cells are naturally flushed away by the body in the months following your treatment. You'll enjoy gradual, natural-looking improvement of the treated areas, which may include the abdomen, upper arms, stomach, inner and outer thighs and more. It's important to note that every patient responds to the treatment differently, so you may achieve your goal with just one treatment, or you may need to undergo a series of three to five treatments to see optimal results. We will help personally tailor a treatment plan for your needs and goals during your personal consultation.
Vein treatments
We know how frustrating visible veins are as an aesthetic concern, that's why our dedicated vein specialists at Chesapeake Vein Center & MedSpa are here to help you diminish and clear away your spider and varicose veins with clinically proven treatment options. Board-certified vein specialist and surgeon, Dr. Surya Challa, is a renowned and widely respected IAC-accredited physician for the treatment of varicose veins and spider veins, as well as general surgery procedures. Spider veins can be treated with sclerotherapy, a minimally invasive procedure that involves injecting a special sclerosant solution into the targeted veins to constrict and fade spider veins from view. They can also be treated with BBL photofacials, non-invasive IPL treatments which stimulate the growth of new collagen and elastin while disabling targeted veins with intense light energy. To treat varicose veins, Dr. Challa will determine the best treatment for you. Treatment options, depending on the severity and your preference, include radiofrequency ablation, a minimally invasive solution that uses radiofrequency energy to heat and damage the walls inside of varicose veins, and ambulatory phlebotomy, which removes varicose veins in a safe out-patient procedure requiring only local anesthesia. However you decide to treat your spider or varicose veins, know you are in amazing hands — Dr. Challa's results have been exemplary!
From all of us at Chesapeake Vein Center & MedSpa, we wish you and your loved ones a merry and bright holiday season and New Year! To learn more about these self-care gifts, please call 757.663.5461 or request a consultation online today.