Now that the holidays are over, it's time for a little R and R — for your skin! Most people don't realize just how damaging a hectic holiday season can be to skin, your largest organ. Stress weakens your skin's defenses, leaving it vulnerable to free-radical damage and other irritants, resulting in a dull, dry lackluster and prematurely aging complexion.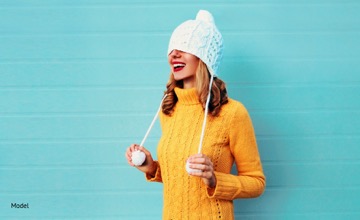 But wait! All is not lost! It's never too late to revive your skin! The key to a radiant, youthful-looking complexion is renewal with state-of-the-art skin rejuvenation treatments. We are proud to provide the cream of the crop in skin renewal with a combination treatment featuring Halo™ and BBL™ laser skin treatments. Here's the scoop on Halo and BBL.
•Halo is a fractional laser skin resurfacing treatment that creates thousands of tiny holes in your skin (called "controlled injuries") to trigger your skin's natural healing response. As these holes heal, your skin is growing healthy new collagen and elastin growth, resulting in smoother texture, diminished pore size, diminished lines and wrinkles, brightness and a youthful glow.
•BBL is a non-invasive treatment that stimulates your skin with intense pulses of light. BBL is the gold standard for correcting uneven pigmentation concerns, including age spots, sun spots, brown spots. But also, BBL corrects small veins, rosacea, redness, pore size and even improves skin elasticity.
•Now, for the combo: When you combine Halo and BBL into one treatment, you are hitting your skin with intense stimulation at every level for the widest possible range of complexion improvements. These treatments create a synergistic boost of revitalization, which means they work better as a combination than on their own.
•What's more, now is an ideal time to receive any laser skin renewal treatment. Scheduling your treatments in the wintertime, when the sun is weaker and you're inside more often, helps to ease your recovery process and minimize the risk of any unwanted side effects which can be triggered by post-procedure sun exposure.
Discover how Halo and BBL can revitalize your skin by calling 757.819.7633 or requesting your personal consultation online today.