Marathon shopping sprees, hours of standing in the kitchen preparing baked goodies and savory feasts, long-distance road trips and air flights: What do all of these holiday activities have in common? They are brutal on your veins, especially varicose veins! To keep your legs comfy this season, here are a few expert tips from our very own vein expert, board-certified vein surgeon Dr. Surya Challa: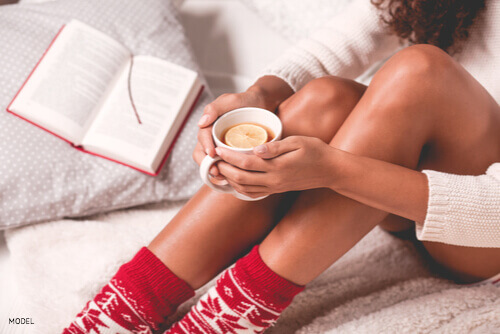 1. Wear stockings!
When you know you're going to be out and about for long periods, such as shopping trips, get proactive about your vein health by wearing compression stockings. Be sure to check with your doctor first, but compression stockings can help to ease the uncomfortable symptoms of leg fatigue, such as swelling and throbbing.
2. Take breaks
Your shopping list may be a mile long, but that doesn't mean you have to run the whole course at once! Your varicose veins need time to rest and recuperate. Make it a part of your shopping routine to rest periodically between the stores you visit. Your veins will thank you, and you'll probably end up having a jollier time because you will be relaxing and reducing your stress in the process!
3. Stay hydrated!
Did you know that drinking water helps your blood stay thinner, enabling it to flow more easily through your veins? Blood can thicken due to dehydration, which can lead to blood clots. Be sure to keep a bottle of water handy on shopping excursions or long periods of travel. Staying hydrated also helps to keep your skin supple and cleanse your body, so you'll reap a bevy of health benefits with this simple tip!
4. Wear comfy clothing
We know looking cute and fashionable is important, but we recommend reserving your high heels and skinny jeans for short stints, like a few hours at a holiday party — not a long road trip or shopping spree. While tight fitting clothing and high heels do not cause varicose veins, they can exacerbate your varicose vein symptoms, causing you discomfort.
5. Now is a great time to seek treatment!
The holidays are hectic, but that's okay for vein treatments! For starters, you'll be surprised how quick and easy most vein treatments are! Plus, after your vein treatments, you'll need to stay up and moving to encourage proper blood flow and speed the healing process (within reason, of course; no marathon running is advised). Dr. Challa offers years of experience as Hampton Roads' leading vein surgeon, and provides state-of-the-art imaging technology and the most advanced treatments to improve your vein concerns with minimal downtime.
To learn more about vein treatments at Chesapeake Vein Center & MedSpa, please call 757.819.7633 or request a consultation online.