While often there's no determined cause, Restless Leg Syndrome (RLS) is a serious and often chronic medical condition that can disrupt a person's quality of life by impairing sleep and causing pain and suffering. RLS is characterized by a strong and irresistible urge to move your legs, typically accompanied by uncomfortable feelings of creeping, pulling, crawling, cramping, or tingling. Symptoms often worsen when you're resting on the couch at night or trying to sleep.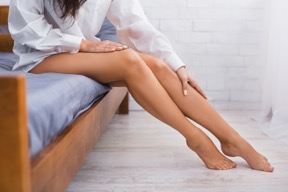 Fortunately, there is hope for RLS sufferers. While there's no known cure for RLS, several treatments can help patients find relief from their symptoms. Here's a look at two drug-free treatment options to consider with your phlebotomist or vein doctor.
Have you heard of Foot Wraps for RLS?
Available by prescription, the restiffic® restless leg relaxer foot wrap device is an FDA-cleared foot wrap designed to apply continuous, adjustable squeezing pressure on specific muscles in the feet to relieve RLS symptoms. In a clinical study published in the Journal of the American Osteopathic Association in July 2016, many subjects noticed symptom improvement within only 24 hours after wearing the foot wrap. Overall, study participants exhibited a 69% reduction, on average, in the severity of their symptoms, which improved dramatically — changing from "severe" to "mild" by the end of the study.
Vein Treatments
Underlying vein problems may cause or contribute to RLS, and treating your veins may help you find relief! In a study at Vein Center of Orange County in Irvine, California, published in Dermatologic Surgery, 98% of patients affected by RLS found relief after treating varicose veins in their legs with non-surgical sclerotherapy. Dr. Challa Surya, a board-certified vein surgeon, is an acclaimed vein expert who provides the most advanced vein treatments and imaging technology for treating vein disorders. He frequently performs sclerotherapy, a minimally-invasive procedure with little to no downtime, to help free patients from vein problems and relieve RLS symptoms.
Home remedies for RLS include baths, massages, cool or warm packs, good sleep hygiene, exercise, and reducing caffeine.
If you suspect you may be suffering from RLS, your first step is calling us for a consultation! Dr. Challa will closely evaluate your symptoms and determine if you are a candidate for RLS treatment. Call 757.819.7633 or request your personal consultation online today.