The dog days of summer are here in force, which means you could probably benefit from hitting the reset button on your complexion. Even more important: if you haven't always remembered to apply or reapply sunscreen this season, it's time to plan ahead with treatments for reversing sun damage! Here's a look at a few of our favorite treatments for helping you refresh and revitalize your look today and for the long term.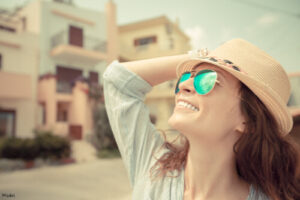 Whether you're in the market for a clearer, brighter complexion or know you'll need to reverse some sun damage by the fall season, we offer a leading range of advanced skin treatments to help you enjoy healthier, happier skin!
Halo™ fractional laser skin resurfacing
Halo is an award-winning fractional laser skin resurfacing treatment that uses two types of laser energy, ablative and non-ablative, to stimulate your skin at multiple levels, revealing overall complexion improvements with minimal downtime! Benefits include:
● Reduced sun damage
● Smoother texture
● Smaller pore size
● Diminished hyperpigmentation such as age spots, sunspots and melasma
● Softened lines and more
For optimal results, you can even pair your Halo treatment with a BBL™ photofacial (see below) for a synergistic boost of skin renewal! Our team can customize Halo treatments to your specific skin needs and aesthetic goals.
BBL™ photofacials
BBL photofacials are a gold-standard non-invasive treatment for diminishing signs of sun damage such as hyperpigmentation and melasma without downtime. BBL (BroadBand Light) treatments work by gently heating the underlying layers of skin, which activates your body's natural healing response, stimulating your skin to produce healthy, new collagen and elastin. This effectively remodels your skin from the inside out, enhancing your skin's tone, texture and hydration. Over time, your healthy new skin cells begin replacing older, damaged cells, which reduces a variety of skin concerns including acne scars, hyperpigmentation, vascular lesions and more. We will work closely with you to customize your BBL treatment to your unique needs.
Chemical peels
While laser treatments like BBL are safe for lighter skin tones, one of our favorite things about chemical peels is that they are suitable for all skin tones and types! Chemical peels exfoliate the outermost layer of skin cells using a specially formulated chemical solution. This process reveals an intensely renewed and overall smoother, younger-looking complexion. Chemical peels can be tailored to your unique needs and can address a wide range of skin concerns including:
● Sun damage
● Melasma
● Acne discoloration
● Hyperpigmentation (brown spots, age spots, sunspots, etc.)
● Rough texture
● Dullness
● Fine lines and wrinkles
Here in Chesapeake, we provide Illuminize® and Vitalize® peels by SkinMedica® as well as VI Peel by Precision Plus. Chemical peels offer dramatic skin improvements within five to seven days after your first treatment, with buildable benefits offering further enhancement with each treatment!
You deserve to experience refreshed, healthy and radiant skin this summer and all year round, so call us today at 757.819.7633 or request a consultation online to get started.