Veins are the workhorses of the body — tireless transporters of blood and vital nutrients throughout the body. But as important as they are, veins aren't very well understood, are they?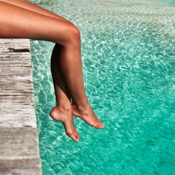 How much do you know about your veins? Find out by taking our quiz!
TRUE or FALSE:
1. Brain freeze is a myth. Drinking a slushy or eating a popsicle can't give you a headache.
Answer: FALSE!
Brain freeze is an actual thing, and is a result of constricting blood vessels! Also known as "ice cream headaches," brain freeze is defined by the Mayo Clinic as "brief, stabbing headaches that can happen when you eat, drink or inhale something cold." Officially known as cold stimulus headaches, these can also be caused by suddenly exposing your head to very cold temperatures, like when diving into cold water.
Although scientists haven't come to a consensus about what kind of bodily reaction actually causes this quick yet painful experience, the Mayo Clinic explains one theory that, "the cold temporarily alters blood flow in your nervous system, causing a brief headache. Blood vessels constrict to prevent the loss of body heat and then relax again to let blood flow rise, resulting in a burst of pain that goes away once the body adapts to the temperature change."
Slushies and popsicles are popular offenders for brain freeze, so remember to be patient in enjoying them!
2. The weather affects your blood vessels.
Answer: TRUE!
Particularly in the winter when the temperature drops — but really any time that your body feels too cold (extreme AC in the summer, anyone?) — your blood vessels respond to the change in temperature by constricting and rushing to your core, to help your heart and other vital organs maintain a healthy temperature. This life-preserving reaction is why your hands, feet, and face often feel the cold first, and some people even see their fingertips turn blue or purple (try not to let this happen for extended periods of time. Use gloves, put your hands in your pockets, or find another method to keep your hands out of the cold air.)
Cold weather can also affect your blood pressure, so it's important for people with blood pressure or heart conditions to be aware and take extra caution in cold weather. When your blood vessels constrict due to the cold, this makes your body work harder to keep pumping the blood everywhere it needs to go, thereby increasing your blood pressure.
3. Your weight affects your blood vessel health.
Answer: TRUE!
Increased body mass means your body has more blood vessels than someone of a healthy weight, which means that the heart needs to work harder to pump blood to the additional fat tissue. This increases blood pressure, sometimes to dangerous levels, depending on a number of other factors. More circulating blood also means more pressure is being put on your artery walls, which also increases blood pressure. Additionally, extra weight puts extra pressure on the heart, raising your heart rate and making it more difficult for the heart to transport blood through the vessels.
4. Vein diseases only affect older adults.
Answer: FALSE!
There are many kinds of vein diseases and conditions, so we'll only highlight a few. Varicose veins, for example, are commonly developed by pregnant women early on in their pregnancy, and people in jobs that require them to stand for long periods of time can also develop varicose veins.
Deep vein thrombosis (DVT) is a condition that, although more common in older adults, can also affect anyone as a result of recent surgery, personal or family history of blood clots, hormone therapy, pregnancy, or a number of other factors unrelated to age.
Our final example is lymphedema, which can be caused by injury, radiation therapy, skin infections such as cellulitis, surgery, and tumors.
Vein diseases can be caused by a number of different factors aside from age, so the more you know, the better!
Dr. Surya Challa is a board-certified vein surgeon who offers the leading technology and highest level of treatment for all vein concerns. He can help you achieve long-lasting vein health with minimal to no downtime. Please call 757.663.5461 or request your FREE consultation today!