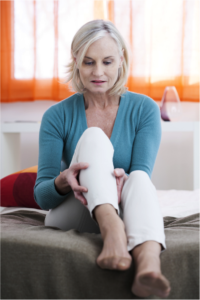 Experts estimate that half of the US population is affected by varicose veins. Despite years of suffering from painful, throbbing legs, many patients wait years before seeking help because they fear treatment is painful, risky, or ineffective. As vein experts and specialists, we are eager to set the record straight because relief from varicose veins is safe, easy, and highly effective.
Varicose veins are treated with ambulatory phlebotomy, or microphlebectomy, an efficient outpatient procedure that can take as little as 30 minutes to 2 hours, depending on the extent of diseased veins. Dr. Surya Challa, board certified vein specialist and vein surgeon, typically begins treatment with the latest imaging technology to assess the health and location of concerned veins. Once patient comfort is ensured with a numbing agent, Dr. Challa makes tiny incisions in the legs to carefully remove the diseased veins.
Our bodies and veins are resilient, so once problem veins are removed, blood flow immediately reroutes to healthy veins. You can take comfort in knowing that Dr. Challa has performed hundreds of microphlebectomies with high patient satisfaction and minimal downtime.
You deserve relief from your painful varicose veins! Get help today by calling  757.663.5461 or clicking here to request a consultation today.