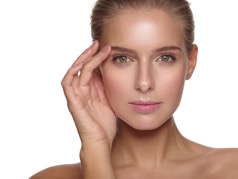 InStyle magazine highlighted the "NoMakeup Movement" in its December issue—are you bare-skin ready? If you want to show off your skin instead of covering it up, Dermapen® Micro-Needling can offer you safety and convenience, while giving you smoother, fresher skin. Let your real self shine through with less makeup—or no makeup—with the confidence of a younger, brighter, visage.
How does micro-needling work? By using automated tiny needles that vibrate, the Dermapen treatment can lessen the appearance of fine lines and wrinkles. It can also reduce scars—both surgical and acne. Micro-needling can even diminish the appearance of stretch marks. By encouraging new collagen production, micro-needling in Chesapeake can rejuvenate your skin for a fresher complexion. This treatment, called "the next big thing in skin care" by Vogue, causes minimal pain and has little to no downtime.
Micro-needling is known for causing little skin damage when compared with similar treatments, without sacrificing results. You can enjoy a younger appearance within the first week. In six to eight weeks, you'll see and feel your optimal results, which means if you get started now, you'll be enjoying your full results by the time spring rolls around.
If you want to ditch your makeup and compact mirror, micro-needling can get you ready to show off your skin. Join the NoMakeup movement—schedule your consultation by filling out our online form or by giving us a ring at 757.663.5461.