Congratulations on making it to summertime in Hampton Roads! It's not a bad place to be. With June comes the promise of outdoor grilling and fun. Oh, and it also happens to be Men's Health Month! Did you know? We think it's a great excuse to talk about our male patients!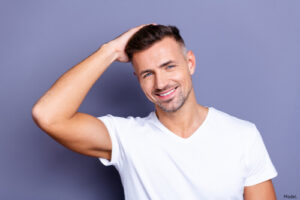 Our question to all the men out there is: "What could you do to recharge and revitalize yourself this summer?" To give you a few ideas, here's a look at some of the most popular treatments among our male clientele.
CoolSculpting®
Summer is a perfect time to undergo a series of CoolSculpting treatments, but honestly, this treatment is great any time of year! Here are the basics: FDA-cleared CoolSculpting is a non-invasive fat reduction treatment that literally freezes away targeted fat cells almost anywhere you want, from your spare tire to your double chin. This treatment doesn't break the skin so there's little to no downtime. You can expect to see gradual improvements in the months following your treatment.
Treatment tips:
● CoolSculpting treats subcutaneous, pinchable fat. It does not reduce visceral fat, which is the harmful type of fat that lies deeper within your abdomen.
● We recommend a series of treatments to achieve your best results.
● CoolSculpting is not a weight-loss treatment. However, by reducing fat, it can help to slim your contours. For example, if CoolSculpting reduces fat around your waist, even though you are still the same weight, you may be able to fit into a smaller jeans size!
Vein treatments
Painful varicose veins are a big problem for men, especially for those who work on their feet every day! Standing up for long periods of time (or sitting) can cause blood to pool in the leg veins, increasing pressure on vein walls and vein valves, causing veins to stretch and weaken. All these factors contribute to painful, bulging varicose veins with swelling, throbbing and other painful symptoms. The great news about varicose veins is that they can be treated, and you are in exactly the right place at Chesapeake Vein Center & MedSpa! Dr. Surya Challa is a board-certified vein surgeon who specializes in state-of-the-art vein treatments. He will work closely with you to determine the ideal course of treatment for you.
It's worth noting that a lot of men may still feel self-conscious about undergoing aesthetic treatments with us, even though it's becoming more mainstream. Our team wants to reassure you that we treat lots of men at Chesapeake Vein Center & MedSpa and will work diligently to ensure you feel at home during your treatments with us. We are privileged to serve you!
Happy summer! To learn more about our treatments, please call (757) 819-7633 or request a consultation online today. We look forward to seeing you soon!