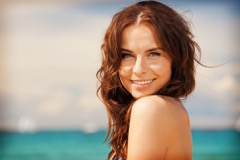 Just like the rest of your body, your skin requires regular maintenance to stay in tip-top shape. Think of your skin like a muscle, in order to keep that muscle strong and toned you would have to take care of it at the gym, right? The same principle can be applied to your skin, except in this case the gym is a relaxing trip to Chesapeake Vein Center and MedSpa!
One of the most effective treatments for refreshing your skin is a chemical peel. These treatments dramatically reduce the appearance of sun damage, as well as signs of aging such as fine lines and wrinkles. Chemical peels work by exfoliating the superficial layers of dead cells to reveal the new and vibrant skin that lies just beneath. It's so quick and easy you can be in and out of our doors in the time it takes for a lunch break.
At Chesapeake Vein Center and MedSpa, we pride ourselves on personalized care, which is why you won't simply be receiving a cookie cutter chemical peel that will do more harm than good. Each of our peels is individually tailored to your specific skincare needs in order to ensure maximum comfort and optimal results. The most commonly treated areas are the face, neck, and chest and results will gradually become visible over the following week.
Keep your skin strong and healthy! Find out if chemical peels are right for you by calling 757-663-5461 to schedule your consultation in Chesapeake today!