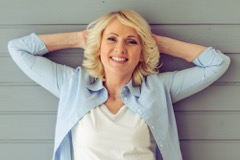 Embrace graceful and beautiful aging with a liquid facelift at Chesapeake Vein Center and MedSpa! This revolutionary treatment takes a comprehensive approach to facial rejuvenation, simultaneously addressing numerous signs of aging including wrinkles, fine lines, nasolabial folds, and many more! A liquid facelift in Chesapeake is perfect for anyone who feels they could use a lift, but want to avoid the stress and downtime associated with surgery.
A liquid facelift enhances the effects of individual treatments like Botox® or dermal fillers by administering multiple treatments at once. In this way, a liquid facelift can help you reach your ideal facial contour in a single visit. It can reduce wrinkles on the forehead and between the brows, diminish lip lines and nasolabial folds, as well as provide volume to the lips for a youthful new look.
Dr. Surya Challa is a cosmetic medical expert and has helped hundreds of clients throughout Hampton Roads achieve the results they've always wanted. Some results from a liquid facelift appear immediately, with maximum effects becoming noticeable one to two weeks following treatment.
Get started with a non-surgical liquid facelift today! Call 757-663-5461 to schedule your consultation at Chesapeake Vein Center and MedSpa and learn more!