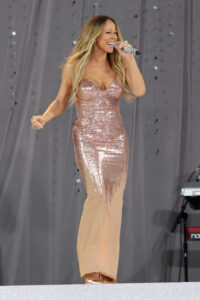 Singer and television personality Mariah Carey stole the show at this year's Macy's Thanksgiving Day Parade, performing in a stunning dress that had heads turning. Following the event, rumors circled as to how Carey appeared so slim on the big stage. She finally shared her weight loss secret – dieting and CoolSculpting®!
CoolSculpting is a revolutionary fat reduction procedure that gets rid of stubborn fat for good! With CoolSculpting treatments at Chesapeake Vein Center and MedSpa, patients can finally reduce fat that resists even the healthiest diet and exercise programs on the love handles, muffin top, bra roll, abdomen, arms, thighs, and more. CoolSculpting is a no downtime, FDA-cleared, and non-invasive treatment that can finally help you reach your desired body image.
CoolSculpting in Chesapeake, Virginia works by freezing the fat cells using a process known as cryolipolysis. After the fat cells are frozen, they are naturally eliminated through the lymphatic system in the weeks following treatment. Surrounding tissue is unaffected, but the fat is reduced for a slim and trim appearance.
Mariah Carey isn't the only one who knows how effective CoolSculpting treatments can be; patients around the country are raving about this cool, comfortable technology and their even more impressive results! Freeze your unwanted fat away for good with non-surgical CoolSculpting treatments at Chesapeake Vein Center and MedSpa.
To learn more about CoolSculpting in Virginia at Chesapeake Vein Center and MedSpa, call 757-663-5461 to schedule your consultation today!