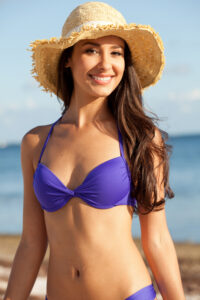 Are your beach body preparations not going as planned? Summer is right around the corner and before you know it you'll be out on the sand soaking in the sun and the waves. The last thing you want is to be embarrassed to wear a bathing suit! At Chesapeake Vein Center and MedSpa we understand that you want your body to look its best on the beach, and we can't wait to help you achieve your goals with CoolSculpting®!
Oftentimes diet and exercise alone can be slow to produce results, which can cause people to get discouraged and give up all together. However, with CoolSculpting in Chesapeake it is still possible to attain a slim and trim figure just in time to hit the beach! CoolSculpting utilizes a process known as cryolipolysis, which targets fat cells in difficult to reach areas of the body and freezes them. Patients feel a cold sensation on the skin, but beneath the surface fat cells are dying and shrinking so they can be naturally flushed from the body for a thinner, more defined you!
CoolSculpting is most often used for the abdomen, back, flanks, love handles, thighs, and now may also be used to reduce the appearance of double chin. Don't wait! Get your beach body ready in time for summer at Chesapeake Vein Center and MedSpa!
For more information about CoolSculpting treatments at Chesapeake Vein Center and MedSpa in Chesapeake, Virginia, schedule your consultation today by calling 757-663-5461!