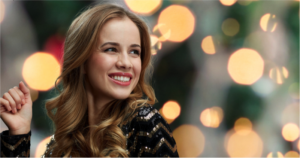 You work hard preparing for the holidays and making it special for everyone else. Isn't it time to make this season special for you, too?
Indulging in a skin renewing treatment like MicroLaserPeel® is the perfect way to pamper yourself this holiday season. With minimal downtime, MicroLaserPeel is a refreshing treat for your skin that will leave you with a show-stopping, head-turning glow for every festive gathering.
We love the MicroLaserPeel because it's a precise and gentle laser peel that can be tailored to your skin's exact needs. This laser treatment targets the outermost layer of skin, triggering the body's natural healing response and spurring new collagen and skin growth. Immediately after your treatment, your skin will look and feel intensely refreshed. As your skin renews itself, you'll notice improvements to your skin's tone, texture and vibrance for weeks to come.
The only catch is timing. The MicroLaserPeel should not be done the day of the party or even the week of the party. This type of skin rejuvenation treatment needs to be done at least two weeks prior to your event to allow your skin plenty of time to calm down and reveal optimal benefits.
Are you ready to feel amazing in your own skin? Let glowing skin be your gift to yourself! Call  757.663.5461 or click here to schedule your free consultation today.