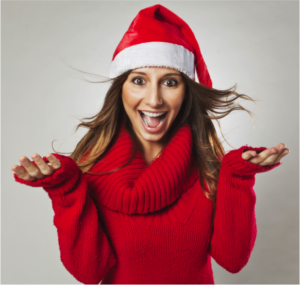 Here's a holiday riddle for you:
We're thinking of a gift that isn't a stocking stuffer. It's the sort of present you save up for, and it's also the kind of gift that keeps on giving…
Give up?
We're talking about CoolSculpting®, the world's number one non-invasive fat reduction treatment!
CoolSculpting freezes unwanted fat cells to help slim down trouble areas of fat on almost any area of the body. We know this treatment isn't a traditional type of gift, but we think it definitely deserves to be added to the "Great Gift Ideas" category. Here's why:
It's easy!
How many gifts help to slim your contours and boost your confidence without having you break out in a sweat (gym memberships) or starve yourself (diet fads)?
CoolSculpting only takes minutes to target and destroy fat cells, producing gradual improvements to your contours without a lick of extra effort on your part. Once CoolSculpting disables your fat cells by freezing them, the only thing left to do is wait as your body purges the cells from your body in the months following treatment.
It's fast.
Thanks to our advanced CoolSculpting technology, we can treat you in half the time as previous sessions, so you can return to your regular routine without missing a beat. We can also slim your upper arms with ease, thanks to CoolAdvantage™ Petite.
It boosts confidence.
CoolSculpting takes away your trouble spots, leaving you with a slimmer and trimmer body and a renewed sense of confidence.
You deserve to love the way you look! Schedule your CoolSculpting consultation by calling  757.663.5461 or clicking here today.