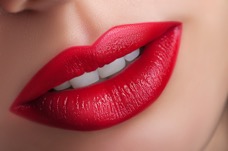 Make your season jolly and bright with a kiss under the mistletoe you won't forget. Why settle for just any kiss when you can plump your pout to perfection and get (or give!) the kiss of your dreams?
For a subtle, natural-looking enhancement of your lips, we offer FDA-approved Juvéderm® at Chesapeake Vein Center and MedSpa. For plumping power that can last up to a year, this popular dermal filler is made with hyaluronic acid, a natural substance in the body that promotes your skin's elasticity and suppleness. It also works great to reduce wrinkles around your nose and the smile lines around your mouth.
Rest assured, you'll receive the highest standard of medical care possible at Chesapeake Vein Center and MedSpa, thanks to the expertise and skill of our medical director, board-certified vein specialist and surgeon Dr. Surya Challa. Along with his experienced and caring staff, Dr. Surya will work with you to ensure your lip enhancement exceeds your expectations.
For some serious lip service, call the experts at Chesapeake Vein Center and MedSpa today for a lip-plumping consultation at 757.663.5461.