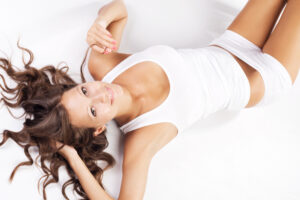 New Year's resolutions are a great way to motivate yourself to reach your health and wellness goals. One of the most common New Year's resolutions is, of course, dropping some extra pounds. However, this can be much easier said than done, even if you fully commit yourself to a better diet and more exercise! As determined as we might be, a lack of visible results for all the hard work makes many people give up on their resolution. If your new lifestyle hasn't shown you the results you were looking for, CoolSculpting® treatments at Chesapeake Vein Center and MedSpa can give you the extra boost you need to look slimmer and feel healthier in 2016.
Stubborn fat can build up in problem areas like the thighs, abdomen, bra line, and arms, and can seem almost immune to healthy diet and exercise plans. If you feel feeling like the hours in the gym aren't getting the job done, CoolSculpting can help!
CoolSculpting in Virginia is an FDA-cleared, non-surgical fat reduction method that removes fat in problem areas for long-lasting fat loss results. CoolSculpting works by targeting fat cells and freezing them through a process known as cryolipolysis. As the fat cells are frozen, surrounding skin and tissue are left unharmed. In the weeks and months following treatment, the frozen fat cells are naturally eliminated through the body's lymphatic system without any invasive surgery. CoolSculpting requires absolutely no downtime, but will leave patients without the belly bulge, muffin top, love handles, or bra roll that just wouldn't go away with diet and exercise alone.
Results from CoolSculpting at Chesapeake Vein Center and MedSpa are long lasting, however it is vital to retain your healthy routine in order to maintain results. Trust Dr. Surya Challa and the Chesapeake Vein Center and MedSpa staff to help you achieve your New Year's resolutions!
For more information on CoolSculpting in Virginia, call 757-663-5461 to schedule your consultation at Chesapeake Vein Center and MedSpa today!